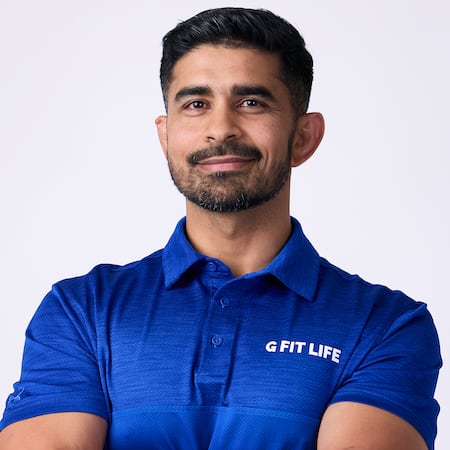 Gaurav Sharma "G"
G is a native of India. However, the freedoms and opportunities available in the United States inspired him to become a United States citizen in 2013. His family in America introduced him to Jesus and he has accepted Him as my Lord and Savior. G has been married to his wonderful wife, Janetta, for 10 years and they have 2 precious children.
G's interest and passion for fitness and personal development began at age 15 after a crisis that left him feeling helpless and hopeless. At that time, he focused his mental and physical energy toward Judo. Ten years of practice, training, competition, and guidance from personal trainers and coaches lead him to be 12 time State Judo Champion, 6 time National Judo Champion, and a competitor in the International Olympic Sports Games in Russia.
Certified Personal Trainer - National Exercise and Sports Trainer Association (NESTA)
Functional Movement Specialist (FMS)
Biomechanics Specialist (BMS)
Y Balance Testing (YBT)
Faith-Based Yoga Instructor
Kaatsu Specialist
Fitness Chef
Gaurav Sharma has been helping people lose weight and regain their optimal health since 2007. With over a decade of experience he has truly invested in learning what works best and analyzed various methods of exercise to find the most beneficial and efficient ways to get results while staying injury free. That is what one on one coaching provides! Exercise has never been one size fits all. Just like going to the physical therapist, chiropractor or the doctor they give you exactly what you need. In the same way G also designs programs that a unique to you and your specific needs so that you can look, feel and be your best. Over the last 13 years he has helped over 1000 clients by providing approximately 30,000 hours of personal coaching/training sessions.
I am passionate about Jesus, America, and helping people. My continuing education and experience with a broad range of clients has afforded me a wealth of information critical for individualizing your personal training.